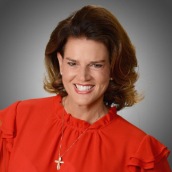 Jane Porras
Learning Support
Phone: 817-924-8917
Groups: Middle School (6th-8th)
My name is Jane Porras and this is my 11th year to teach and 8th year with Saint Andrew Catholic School. My husband, Ricardo, and I have been married for over eleven years. We have a precious 11 year old daughter, Mattie Rose, who will be entering 6th grade here at Saint Andrew. Phillip, our 8 year old, A.K.A. the TORNADO, will start Third Grade and even though it pulls my heartstrings I am so excited to watch him grow. I feel very blessed to have my children here in our awesome school. Our youngest son Matthew will turn 4 on December 1st; he changes and surprises us everyday!
Our family of five keeps us busy but reminds us everyday God is GREAT all the time! We also have two ferocious chocolate poodles, Tico and Coco. The lord has truly blessed us with an awesome family!
Education: Bachelor of Arts Degree in Speech Communication with a Minor in Journalism from Texas A&M University.