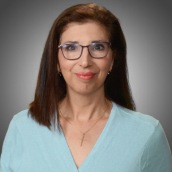 Angie Watts
7th & 8th Grade Teacher
Phone: 817-924-8917
Groups: Middle School (6th-8th)
Welcome to sensational sixth grade. I am looking forward to working with you to make this school year great.
My name is Angie Watts, and I was born and raised in Fort Worth. I graduated from Texas Wesleyan University with a BS in Mathematics and am secondary certified in Math grades 6-12. I have three children, all of whom attended Saint Andrew Catholic School. The youngest, Nicholas, will be attending Texas State University this fall. My other two kids, Janel and Trey, are at UTA and TWU. I was a Saint Andrew parent for fourteen years. My husband, Charles is an electrical engineer. Charles and I strongly believe the educational and spiritual growth our children received at Saint Andrew Catholic School set the foundation for their success. We feel like SAS reinforces the values we are teaching at home.
I am very excited to be teaching your children Religion and Math this year. I will instruct my class using the Saint Andrew's tradition of strong academics and a loving Christian heart. I believe our school is a "Christ-centered community" focused on an atmosphere of prayer, respect, and responsibility. I feel open communication is a key component to having a successful year. Therefore, I encourage you to contact me via e-mail at awatts@standrewsch.orgregarding any concerns you may have. My conference/planning time from 9:30-10:15 a.m. every day except Wednesday, at which time it is from 10:15-11:00a.m..