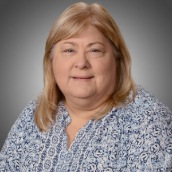 Kim Morrow
PreK-4 Teacher
Phone: 817-924-8917
Groups: Preschool
Jesus has called me to be a teacher and to become a part of something of great significance. He has given me the ability to touch the hearts and minds of my students. As a Catholic School teacher, I am given the opportunity to nurture curiosity, cultivate interest, and to share the mission of the Catholic Church. Pointing my students towards God's loving care, mercy, and trust is my greatest task and my greatest gift to them. In return, I see the joy and love of God in their beautiful faces each day.
I grew up in a large family of six children. We all attended Saint Andrew Catholic School. I have one daughter who also attended Saint Andrew and Nolan Catholic High School. She recently received her Master's Degree and is engaged to be married.
I enjoy traveling, gardening, antiques, sports, reading, and do-it-yourself home improvement projects.
Degree: I received a Bachelor of Science Degree from Midwestern State University. I have continued my studies with courses in Elementary Education at TCU and UTA.