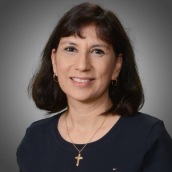 Consuelo Araujo
Kindergarten Teacher
Phone: 817-924-8917
Groups: Kindergarten
This is my ninth year to teach kindergarten at Saint Andrew. But overall I have been teaching for 16 years. I taught first grade at FWISD for 7 years and been here at Saint Andrew for 9 years. I am the mother of 3 wonderful children. Antonio is 19 years old and is a Sophomore at UTA. Alejandro is 16 years old and is a Junior at Nolan Catholic High School. And Adrianna is 14 and is a Freshman at Nolan Catholic High School.
I received my degree from the University of Texas at Arlington. I have my certification to teach elementary K-8th grade. I have also recently completed my catechist certification.
My teaching philosophy:
All Children can learn.
Each child is unique.
Discipline is very important.
Children need to learn to respect themselves and others.
Learning should be fun and engaging.
Remember that you are your child's first teacher. Children learn by
example.