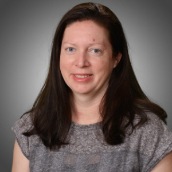 Darlene Bauchman-Lopez
Technology Teacher & IT
Phone: 817-924-8917
Groups: Support Staff
I am a graduate of Nolan Catholic and have a B.S. in Software Engineering and Computer Applications from Saint Mary's University. After college, I worked with AmeriCorps for two years, building technology centers and technology curriculum for 14 Fort Worth nonprofits. Before working at Saint Andrew, I continued assisting area nonprofits and small businesses with their technology and website needs, while also working in E-commerce.
As the IT Coordinator at Saint Andrew, I assist over 650 faculty and students with their technology needs. Every day is different. One minute a students needs help printing, then next a teacher needs assistance with an online application.
This is my third year teaching a technology elective for middle school. Students engage in Office 365 applications almost daily in class. Our year begins with working on our keyboarding skills and progresses to coding.
If I'm not assisting with technology then you can find me coaching our awesome Wildcats! I strongly believe every student should be able to explore their talents and gain life skills in the classroom and through sports.
Outside of school I love to spend time with my family, coaching, and traveling. My husband and I have one daughter who attends Saint Andrew. The three of us love vacationing at the beach, in the mountains, or at Disney.